Below are NRSV translations of the lessons from the Psalms (Psalm 86:1-10, 16-17), Old Testament (Genesis 12:8-21), the Letters (Roman 6:1b-11), and the Gospels (Matthew 10:24-39). Please make any comments concerning the passages you want. Together, let's discuss the Word of God.
Psalm 86:1-10, 16-17
Incline your ear, O Lord, and answer me, for I am poor and needy.
Preserve my life, for I am devoted to you; save your servant who trusts in you. You are my God;
be gracious to me, O Lord, for to you do I cry all day long.
Gladden the soul of your servant, for to you, O Lord, I lift up my soul.
For you, O Lord, are good and forgiving, abounding in steadfast love to all who call on you.
Give ear, O Lord, to my prayer; listen to my cry of supplication.
In the day of my trouble I call on you, for you will answer me.
There is none like you among the gods, O Lord, nor are there any works like yours.
All the nations you have made shall come and bow down before you, O Lord, and shall glorify your name.
For you are great and do wondrous things; you alone are God.
Turn to me and be gracious to me; give your strength to your servant; save the child of your serving girl.
Show me a sign of your favor, so that those who hate me may see it and be put to shame, because you, Lord, have helped me and comforted me.
Genesis 12:8-21
From there he moved on to the hill country on the east of Bethel, and pitched his tent, with Bethel on the west and Ai on the east; and there he built an altar to the Lord and invoked the name of the Lord. And Abram journeyed on by stages toward the Negeb.
Now there was a famine in the land. So Abram went down to Egypt to reside there as an alien, for the famine was severe in the land. When he was about to enter Egypt, he said to his wife Sarai, "I know well that you are a woman beautiful in appearance; and when the Egyptians see you, they will say, 'This is his wife'; then they will kill me, but they will let you live. Say you are my sister, so that it may go well with me because of you, and that my life may be spared on your account."
When Abram entered Egypt the Egyptians saw that the woman was very beautiful. When the officials of Pharaoh saw her, they praised her to Pharaoh. And the woman was taken into Pharaoh's house. And for her sake he dealt well with Abram; and he had sheep, oxen, male donkeys, male and female slaves, female donkeys, and camels. But the Lord afflicted Pharaoh and his house with great plagues because of Sarai, Abram's wife. So Pharaoh called Abram, and said, "What is this you have done to me? Why did you not tell me that she was your wife? Why did you say, 'She is my sister,' so that I took her for my wife? Now then, here is your wife, take her, and be gone." And Pharaoh gave his men orders concerning him; and they set him on the way, with his wife and all that he had.
Roman 6:1b-11
Should we continue in sin in order that grace may abound? By no means! How can we who died to sin go on living in it? Do you not know that all of us who have been baptized into Christ Jesus were baptized into his death? Therefore we have been buried with him by baptism into death, so that, just as Christ was raised from the dead by the glory of the Father, so we too might walk in newness of life. For if we have been united with him in a death like his, we will certainly be united with him in a resurrection like his. We know that our old self was crucified with him so that the body of sin might be destroyed, and we might no longer be enslaved to sin. For whoever has died is freed from sin. But if we have died with Christ, we believe that we will also live with him. We know that Christ, being raised from the dead, will never die again; death no longer has dominion over him. The death he died, he died to sin, once for all; but the life he lives, he lives to God. So you also must consider yourselves dead to sin and alive to God in Christ Jesus.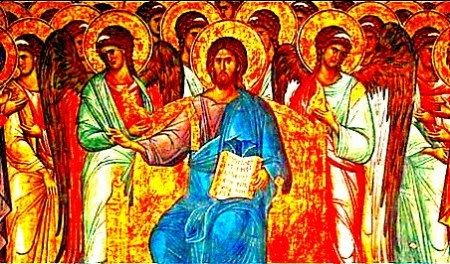 Matthew 10:24-39
"A disciple is not above the teacher, nor a slave above the master; it is enough for the disciple to be like the teacher, and the slave like the master. If they have called the master of the house Beelzebul, how much more will they malign those of his household!"So have no fear of them; for nothing is covered up that will not be uncovered, and nothing secret that will not become known. What I say to you in the dark, tell in the light; and what you hear whispered, proclaim from the housetops. Do not fear those who kill the body but cannot kill the soul; rather fear him who can destroy both soul and body in hell. Are not two sparrows sold for a penny? Yet not one of them will fall to the ground apart from your Father. And even the hairs of your head are all counted. So do not be afraid; you are of more value than many sparrows.
"Everyone therefore who acknowledges me before others, I also will acknowledge before my Father in heaven; but whoever denies me before others, I also will deny before my Father in heaven.
"Do not think that I have come to bring peace to the earth; I have not come to bring peace, but a sword. For I have come to set a man against his father, and a daughter against her mother, and a daughter-in-law against her mother-in-law; and one's foes will be members of one's own household. Whoever loves father or mother more than me is not worthy of me; and whoever loves son or daughter more than me is not worthy of me; and whoever does not take up the cross and follow me is not worthy of me. Those who find their life will lose it, and those who lose their life for my sake will find it."